MEET THE ANCHORS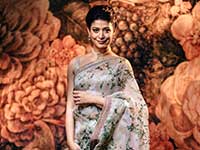 With over 10 years of theatre experience, 4 international feature films, 100s of corporate events and dozens of Indian TV commercials to her name, Freishia is blessed to do what she loves doing. She has had the opportunity to have worked with all the leading names of Bollywood, interview global CEOs and launch some of the most popular products in the market, worldwide. A travel lover, big foodie, and fitness enthusiast, Freishia joined NDTV Good Times as an anchor with her own travel series 'Hangout Amreeka.' Her natural flair while hosting makes every bride feel comfortable and Band Baajaa Bride welcomes her back to add sparkles in our bride's lives.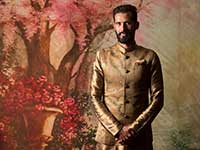 Supermodel and Band Baajaa Bride host Bharat Arora started off as a runway model in 2004, being one of Elite India's first male models to be signed until 2009. In his tenure, he walked the ramp for all the leading menswear designers and was a regular face at Wills India Fashion Week, Lakme Fashion Week and Blenders Pride Fashion Tour. Later, he was seen gracing the screens with popular GECs and anchoring primetime shows on the television. Now based in New Delhi since 2015, he has started his consultancy service for organic living and self-sustainability. Band Baajaa Bride is truly incomplete without its 'Band Baajaa Bharat' moments.
Bride's Guide
Home Remedies: Papaya is great for beautiful skin. Eating papaya aids elimination of toxins! A ripe papaya is very effective when it comes to removal of dead skin. Just apply mashed papaya pulp on the face minus the eyes, keep it on for 15 minutes and rinse it off!
Cleanse your skin the natural way: a) Mix strawberries, oatmeal and milk cream and apply it to your face for 15 minutes.
b) Dab watermelon juice on your face to reduce wrinkles.
c) For a natural bleached look, apply cucumber juice on your face.
Face Packs: Mix some besan, egg yolk and milk and apply it on your skin if you would like to avoid wrinkles.
Make sure as a bride you are not suffering from bad breath. You should brush, floss and use a mouthwash twice a day. If the problem persists, see a dentist.
Meet your dentist: If your teeth need cleaning or you are worried about the shape of your teeth, get an appointment with your dentist months before your wedding.
If it's your wedding today, remember to eat well, throw your mobile phone away, don't use social media for last minute invites, smile and be charming. Have a great time!

Make Up: Someone once told me: always dress well; you never know whom you might meet! It's not just about your clothes. It's also about your make up. Make sure you carry the basics in your bag: Kajal and Mascara have the power to make your eyes look alive and vibrant. Be patient and find a lip gloss or a bright lipstick (from the family of fucsia/red/coral/orange) that will add instant glamour to your face. Last but not the least, a blush to add color and definition! In case you have pores or scars then don't wear a blush with iridescent particles, they will highlight your flaws.
Workout: If you want to change your body or lose some weight before your wedding, give yourself time, 6 months to a year! Figure out how much you want to lose and work on the loss in a targeted manner. About 70-80% of losing weight is credited to 'what you eat' and the balance is about the work out. Losing weight entails a lot of discipline so be strong as you take the plunge to Destination Fit!
Hair Care: Pre-wedding hair care is a lot about getting your fitness in order! Figure out the problem and find a hair doctor who can find a solution. Try hair spas and home care packs, a popular one is a mixture of eggs, yogurt, lemon juice and a dash of coffee! If you feel your mane needs serious work, you could visit a hair spa and pamper your scalp with protein rich hair pack, oils, shampoos and hair conditioners.
What to pack for your honeymoon: Denim on denim, crop top, a mini skirt with a peplum top, graphic or tropical prints – anything that looks good and is equally comfortable. Also you don't need to pack in for all the days. You just might want to shop!
Quick fixes: A bride can't be seen with chipped nail paint! Keep a kit handy with nail file, nail paint remover and nail polish. If your hair is oily but there is no time for a wash and blow dry, panic not. Get yourself a Dry Shampoo, it soaks up the oil, gives a fresh look and saves time! Someone dropped food or wine on your outfit? Panic not, just clean the stain with soda water and you're good to go!
Mentor Sabyasachi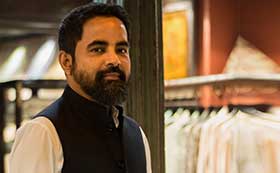 Sabyasachi Mukherjee is the design genius who with a single touch can transform the girl next door into a vintage diva. His designs are all about a classic sensuality. The Sabyasachi bridal charm is a cut above the rest which makes him a hit with the critics and classes alike! Lending his expertise and name to this season of the show, Band Baajaa Bride with Sabyasachi, will see brides being created like never before!
ABOUT THE SHOW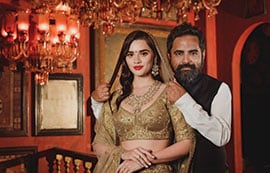 A fairytale wedding is every girl's dream; from the girl with a debilitating skin condition who thought herself less beautiful, to a biker girl who sees herself as anything but sultry. Bring dream weaver Sabyasachi into the picture and low self-esteem becomes a thing of the past and fantasies become real!
This season on Band Baajaa Bride with Sabyasachi, 13 brides will be transformed through his Midas touch, right from her regal lehenga to her intricate heritage jewelry, designed by the master himself. And if that wasn't enough Sabyasachi's accomplices and show hosts Freishia and Bharat will go to great lengths to pamper brides with once-in-a-lifetime experiences. Why? Because every bride needs a sparkle!
Don't miss the trendsetting brides of 2018 on Band Baajaa Bride With Sabyasachi Season 8 on your TV screens and social media feed, starting February 14th, 9pm only on NDTV Good Times.